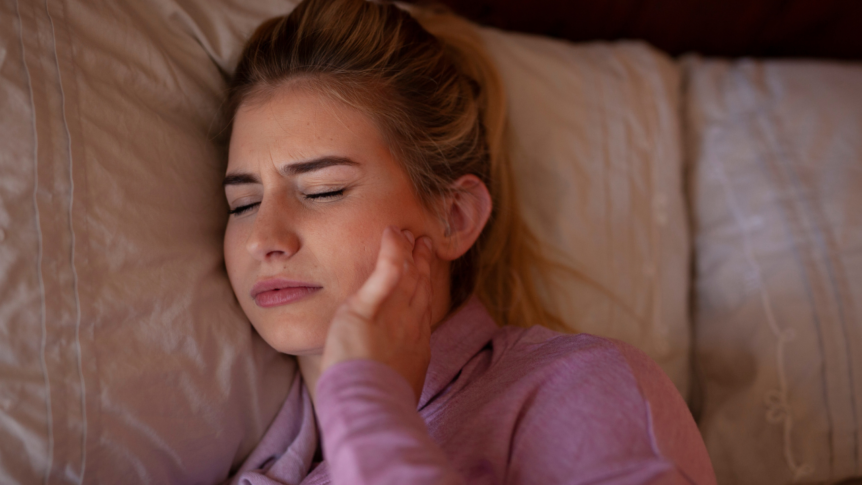 Did you know TMJ disorders, sleep apnea, migraines, or chronic tooth damage, all might be linked to jaw misalignment? For sufferers, Get More Relief with the MooreRelief™ Method.
Having good oral health means more than just staying on top of your 6-month checkups. Being proactive about seeing a dentist is great, but there may be foundational issues that general dentistry can't fix. As it turns out, many routine problems can be traced back to the jaw. Additionally, there is evidence to show that the movement of the jaw and surrounding muscles can cause people to come in with jaw or tooth and neck pain or broken teeth.  For instance, symptoms of jaw issues may include:
TMJ/TMD

Sleep Apnea

Tension Headaches

Migraines

Jaw Pain

Tooth Erosion (cracked, chipped, flat, etc.)

Anxiety or Depression

Vertigo or Tinnitus

What is the MooreRelief™ Method?
The MooreRelief™ Method is a way of diagnosing and treating jaw misalignment.
First, patients undergo a series of bite examinations to determine the level and cause of your issue. 
We like to pinpoint exactly how healthy your jaw joints are, and our technology allows us to do just that. We measure the timing of your bite and muscle activity by using Bio-EMG-III™ scanning and T-Scan™ technology. Moreover, these evaluations lead to a medical diagnosis. As a result, patients feel validated and understand how they can move forward with their oral health care.
After scanning and diagnosing, the patient may need a topographical alignment. For instance, this includes polishing areas on teeth that may be too high. Moreover our scanning equipment helps our staff align your bite with unequaled accuracy. Like a chair with uneven legs, you need someone to make sure all peaks and valleys of your teeth are matching up.
Lastly, the final step in healing and restoring your jaw means utilizing the MLS Multi-Locked Wavelength Laser Therapy. This is an in-office, non-invasive therapy treatment that works to reduce swelling and inflammation of damaged muscles and tendons.
"This patented, FDA-cleared technology has an 85% – 90% efficacy rate in relieving pain and inflammation, eliminates risk from surgery and prescription pain killers, has no negative side effects, and restores patients' lives."
What does it do?
The MooreRelief™ Method provides more years of tooth longevity and tooth strength. More hope for pain relief and migraine management. More restful sleep, more ability to enjoy the food you want to eat (not only what you can eat), and more quality living.

Am I a good fit?
Unfortunately, not every issue is caused by poor jaw alignment. Therefore, not every problem can be solved with the MooreRelief™ Method. Dr Moore works closely with related health care providers, ENT's, Neurologists, Chiropractors, & Physical Therapists to provide you with the most up to date therapies available. 
Now is the best time to Get More Relief.
Sadly, flossing and brushing may not be enough for your oral health. But more importantly, it's not your fault. Generally speaking, there's not much someone can do on their own to diagnose and treat misalignment of the jaw. In the end, for those who suspect TMJ or jaw issues to be behind many of their symptoms, please reach out to schedule a consultation.